Sun Bing, secretary of Ezhou Municipal Party Committee, investigates Wuhan RS Pharmaceuticals Co., Ltd
---
On April 5, Sun Bing, Secretary of the CPC Municipal Committee of Ezhou and Commander of Ezhou Municipal Prevention and Control Headquarters, accompanied by Zhao Benli, Secretary of the Municipal Commission for Discipline Inspection, Lu Hui, Deputy Mayor, Peng Bo and Gao Fei, Director of the Management Committee of Gedian Development Zone, went to ---- Wuhan RS Pharmaceuticals Co., Ltd a subsidiary of the CMC business segment of the Group, to conduct field research, inspect and supervise the prevention and control of the epidemic and the work safety of the enterprise. And listen to enterprise demands. Wang Chaodong, Chairman of the Group, Liang Bin, Deputy General manager of the Group, Cao Yi, political commissitor of the CMC platform, Liu Yaoxiu, director of the management of the CMC Platform, and Yu Xuechen, director of the General office of the Group, participated in the research.
After a series of standard procedures for epidemic prevention and control, such as code scanning, temperature measurement, disinfection and registration, the company leaders accompanied Secretary Sun and his party to visit the product exhibition hall, research and development center and production workshop ofWuhan RS Pharmaceuticals Co., Ltd introduced the work of RS Pharmaceuticals in epidemic prevention and control and production safety in detail, and reported the progress of product research and market prospects of the company. At the same time, I communicated with Secretary Sun about the problems encountered in the process of enterprise development.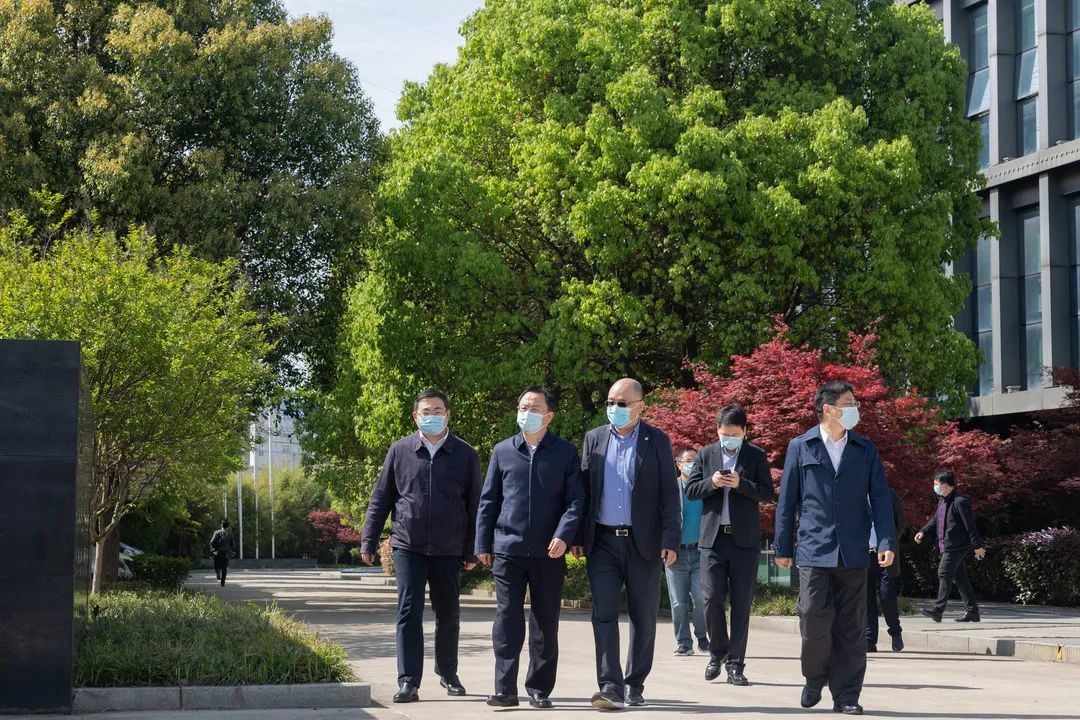 Secretary Sun Bing said that for the problems encountered in the development of enterprises, the government will strongly support and provide good services, and it is also hoped that Rising Pharmaceutical will continue to strengthen its confidence in development, seize development opportunities, increase investment in research and development, effectively expand production capacity, learn advanced experience, and make further efforts in the industrial chain, on the basis of regular epidemic prevention and control and safe production. To achieve complementary and coupled development with Wuhan biomedical industry. Secretary Sun stressed that the Gedian Development Zone should break the ice to lead the development through the breakthrough, in-depth study of policies, strengthen the connection of work, actively strive for support, do a good job of service guarantee, and promote more projects to start.
ADD.
No.28, Chuangye Avenue, Gedian Development Zone, Ezhou City, Hubei Province, China
WeChat Public
©2023 Wuhan RS Pharmaceuticals Co., Ltd
SAF Coolest v1.3 设置面板
EIMSX-ZHWH-HQAWE-ZAD
图片ALT信息: RS Pharmaceuticals
违禁词: 第一,最,一流,领先,独一无二,王者,龙头,领导者,极致,
V1.3.1 SVG图标库
请自行添加图标,用div包起来,并命名使用