There are pharmaceutical "Winter solstice battle" dumpling activities
---
  On December 21,2016,during the Winter Solstice solar term,ZY Pharmaceutical Co.,Ltd.organized all employees to carry out a fun dumpling making activity with the theme of"Winter Solstice Battle".The event kicked off at 9 am in the cafeteria.Each department was divided into six groups and sent representatives to participate in the competition.
  The event was"Making dumplings:Fight for speed,fight for quality,fight for teamwork!"Eat dumplings:relay,fight appetite,luck to share!"For the campaign slogan.
  The activity is divided into two parts:dumpling making competition and relay dumpling eating competition,and integrates the elements of physical exercise.All of them prepared exquisite gifts for the top three in the two sections,and selected the popularity award,health award and lucky award after the competition,and the whole activity filled with harmonious and happy atmosphere.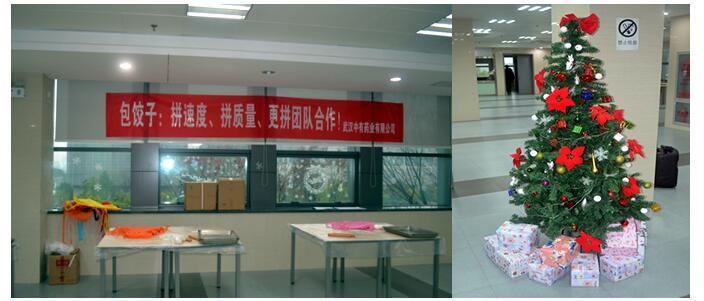 Event site layout               Great event prizes

  1 Fully armed and ready 2 Race against the clock to make dumplings

1 "Count how much we pack" 2 QA strictly controls the quality and quantity of dumplings

1 The first part of the winning group photo 2 The winning team won a rich prize
  Through this activity, the colleagues participating in and watching the game not only experienced the fun of teamwork, but also shared the fruits of their labor, so that everyone can enjoy. The setting of the competition link also reflects the corporate value concept of "quality" and "health" everywhere, so that the corporate culture is more deeply rooted in people's hearts.
ADD.
No.28, Chuangye Avenue, Gedian Development Zone, Ezhou City, Hubei Province, China
WeChat Public
©2023 Wuhan RS Pharmaceuticals Co., Ltd
SAF Coolest v1.3 设置面板
EIMSX-ZHWH-HQAWE-ZAD
图片ALT信息: RS Pharmaceuticals
违禁词: 第一,最,一流,领先,独一无二,王者,龙头,领导者,极致,
V1.3.1 SVG图标库
请自行添加图标,用div包起来,并命名使用